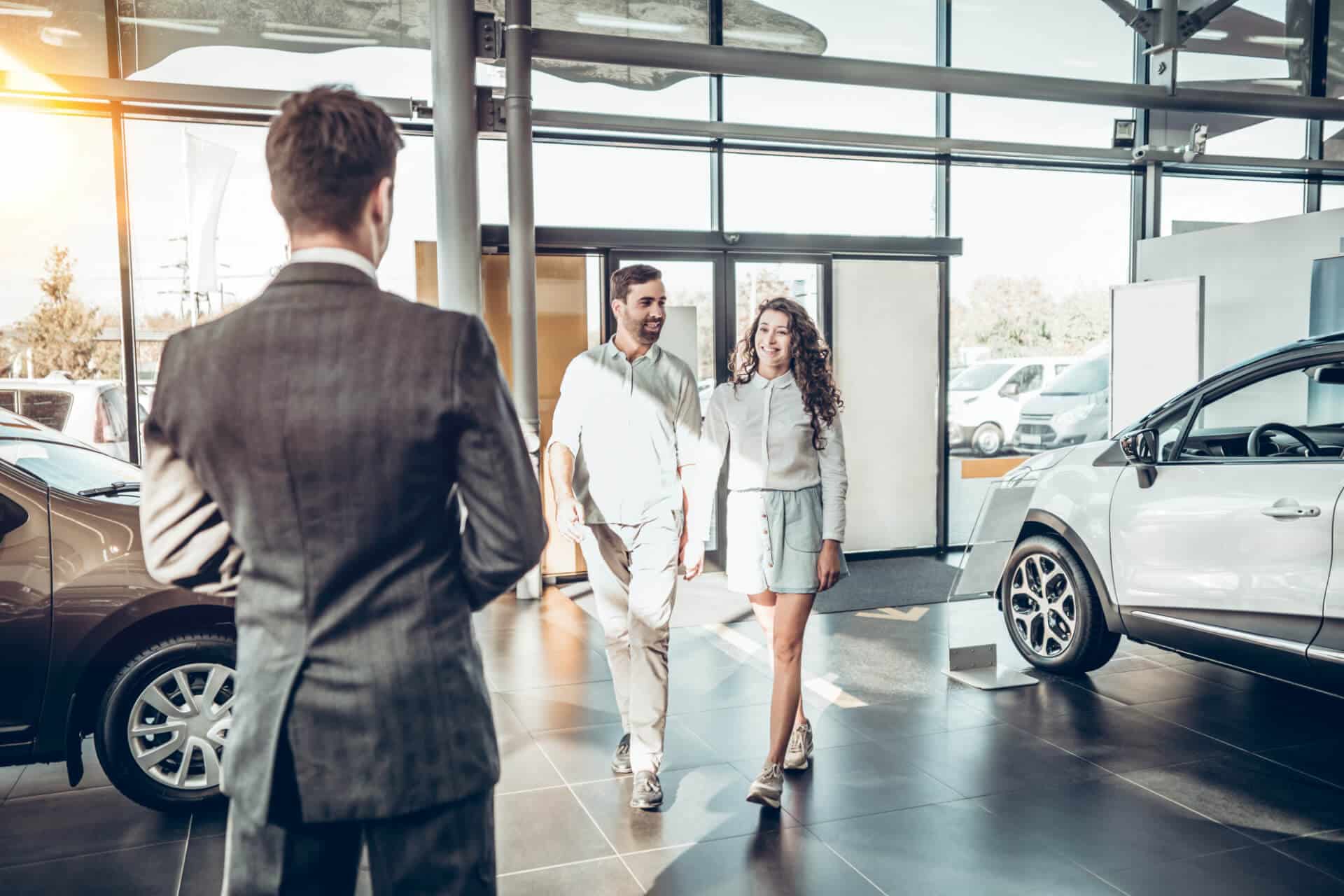 Buying a used car is never an easy process. However, the stigma associated with the car-buying process is often worse than what's really going to happen.
After all, it's unlikely that you will encounter that creepy salesperson who is trying to unload a lemon as if it were a luxury car. The majority of salespeople are not the con artists they are portrayed to be, but you still have to be careful.
With that said, some car dealerships are far from reputable and will take advantage of you.
The truth is, there will also be some sort of pain you will experience when looking at dealerships, but most used car buyers only need to visit about two dealers before finding the right car. Knowing how to find a reputable dealer can make all the difference.
We will show you some what's normal and some red flags to watch out for as you hunt for the most reputable car dealerships.
Common Pains Felt From Visiting Dealership
The more things change, the more they stay the same. Unless you are buying a vehicle online, here's what you can expect the next time you set foot in a dealership.
1. Delays During Negotiation
Sadly, even the most efficient car dealership requires you to spend several hours on-site before you get behind the wheel. In fact, the average time spent at the car dealership is about four hours. That excessive amount of time is needed to get everything accomplished, so it's a pain you really can't get around.
Of course, you can shop at less busy times, have all your documentation ready and schedule your test drive ahead of time. All of these actions will speed up the process, but don't expect negotiations to go quickly unless you are willing to pay sticker price.
Negotiation requires the assistance of the finance department, so you can expect delays as the salesperson provides the go-between with your offers and their counteroffers.
If it seems that the dealership is wasting your time or isn't willing to negotiate, it's okay to leave, even if you have already spent a good chunk of time there.
2. Extended Warranty/After Care
Another delay occurs while the dealership offers you an extended warranty and after care service. While you need to listen to the offer, you don't need to accept anything they suggest. You can purchase the car without any additional coverage, and it's usually best if you do.
It's been proven that most people spend more on these extended warranties than the benefits received. Because of this, you would be better to put money aside for repairs instead of spending it on warranties and service contracts.
3. Decision Influencing
While it makes sense to bring someone with you to the dealer as four eyes are better than two, remember that you want to bring someone that genuinely cares about you making a wise decision and is on the same page as to vehicle selection and price. It's common for salespeople to leverage a spouse, boyfriend, girlfriend, friend, or family member to close the sale or steer you toward another vehicle.
4. Finance Approval
Unfortunately, you will wait for finance approval. Not only does it take time for the salesperson to talk everything over with the finance department, but the bank must review all of your information before giving final approval. You can pre-qualify at many dealerships before visiting to make this process smoother and faster. However, you may not want to get financed by a dealer, check out our article to see why … Financing: Why dealers want you to buy it from them, and why you probably shouldn't
Reminder that if seeking financing, either from the dealer or elsewhere, not all transfers can occur over a weekend. While some dealers will make exceptions and allow you to drive that vehicle home on a Saturday, Sunday, or bank holiday, many will require funds in hand before releasing the vehicle to you.
5. Dealing with Multiple People
When you visit a car dealership, you aren't going to work with one person from start to finish. You can expect to meet with a salesperson, the finance department and even a manager, depending on what your needs are. Sometimes a specific sales rep represents certain vehicles and so it's not unusual for you to be passed along if the initial salesperson you deal with does not have that vehicle in their own "inventory".
However, this could easily turn into a red flag as well. If you find yourself dealing with multiple salespeople, you might want to go elsewhere.
Red Flags to Watch for at Car Dealership
While all of the above situations are considered normal, there are a few red flags you want to watch out for.
1. Disorganized Dealership
Your gut is a strong indicator of what's going on. If you are willing to listen to what your gut is trying to tell you, it's possible to protect yourself from a scam.
When you walk into the dealership, pay attention to your initial reactions. Does the showroom look organized and well-cared for, or is it a mess with low lighting?
Check out the lot. Does it look like the vehicles have been sitting for a long time and not being maintained properly, or is everything clean and professional looking?
Additionally, you can do some research before you even visit the dealership. Just take a look at the website. Is it organized well and can you find what you are looking for, or is it cluttered and chaotic?
You are about to spend a lot of money at this dealership – do you feel that they have earned your money based on appearance alone? If not, find another dealer to work with.
2. Complete Vehicle History
Anytime you purchase a used vehicle, you want to see the vehicle history. There are several ways to get a vehicle history report, but one of the most popular is through Carfax. However, a reputable dealer is going to provide this information to you freely.
The vehicle history report shows any previous accidents. It also reveals any significant repairs that have occurred, plus the mileage of the vehicle. While a Carfax report is useful, it should not be relied on exclusively to make a purchasing decision. Why you shouldn't rely on a Carfax report when buying a used car
If a vehicle has a very complicated report or the seller is unwilling to provide one, you should walk away. Additionally, if you can't adequately match up the VIN on the car with the report, there's something shady going on.
3. Pre-Purchase Inspection
Anytime you purchase a used car, you also want a pre-purchase inspection. You wouldn't purchase a home without having an inspector take a look; the same goes for a used vehicle!
If the dealer attempts to talk you out of the pre-purchase inspection, or does not allow one, this is a huge red flag. Same goes for a dealer who tells you that they have competent mechanics in house that can inspect or the vehicle has already been certified by their mechanics. You don't just want to take the dealership inspection as an accurate representation. It's important to do your own inspection as well.
For example, the FTC claims that even with a 100-point dealership inspection, you could be purchasing a car with open recalls. This is something that your independent mechanic can help you with.
If you are buying a used hybrid or electric car, you will need a pre-purchase inspection from an impartial mechanic that has specialized equipment and skills.
Along with a visual and mechanical inspection, you want to take any car you are looking at on a road test. This is your chance to try out every feature of the car to ensure it works correctly. Listen closely for strange noises and don't be afraid to give it a little gas.
Most importantly, have POMCAR perform a pre purchase inspection on that used car, truck, or SUV. Qualified techs with specific make and model experience will conduct a thorough inspection and take that vehicle for a proper road test.
4. Lack of Dealer Certifications
A big difference between good dealers vs. scam artists is the accolades and certifications each receives. It isn't likely that the dealer looking to rip people off is going to take the time to qualify for various reputable certifications.
One important qualification to look for is if the dealership is partnered with the NIADA. The National Independent Automobile Dealers Association is a reputable source that has been around since 1946. More than 20,000 auto dealers nationwide are part of the program, so it's not difficult to find one you can trust.
In addition to professional accolades, you should do independent research on social media and Google. After all, customers are going to tell it like it is.
5. Asking Price
The old saying holds fast, "If it's too good to be true, it probably is."
You want to find a vehicle at a great price, but it should never fall below the current market value. Otherwise, there are some major red flags trying to catch your attention.
Car dealerships need to make a profit. They will always bake in a minimum profit % as that is just makes good business sense. It's up to you whether the vehicle is worth that value!
Here's an example of a vehicle inspected by POMCAR … the Mercedes-Benz G-Wagon below was priced $25k below market value. Can you guess why?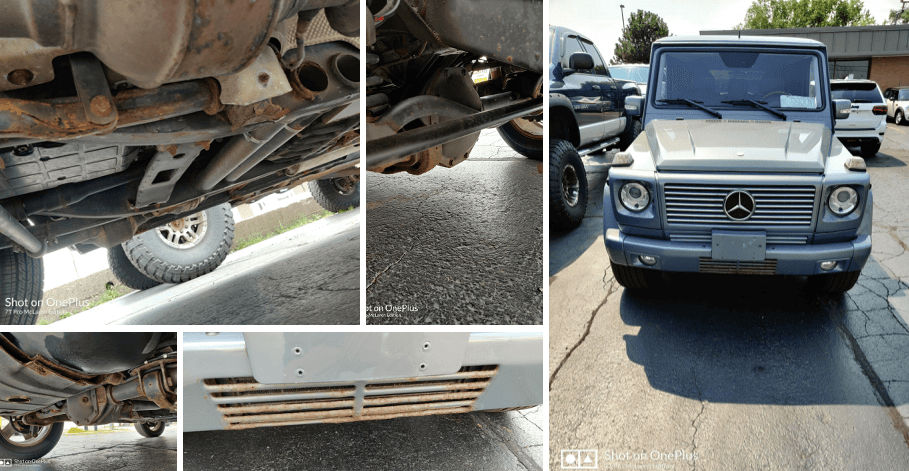 It's pretty obvious that there is flood damage and extensive corrosion to the undercarriage. Is it worth the asking price? Potentially, if you are aware of all repairs needed and confident they can be done for less than the prevailing market value. Bottom line is there is a reason that vehicle is priced to sell well below market value!
Regardless of your Dealer Experience, always get a Pre Purchase Inspection!
POMCAR is a nationwide provider of used vehicle pre purchase inspections. PPIs are all we do. We have an extensive network of qualified technicians ready to perform a 270-point inspection and deliver a meaningful report.
Once you find the car you want, you can schedule a hassle-free pre-purchase inspection with the help of POMCAR. Our streamlined process makes the entire car-buying experience better than ever before.