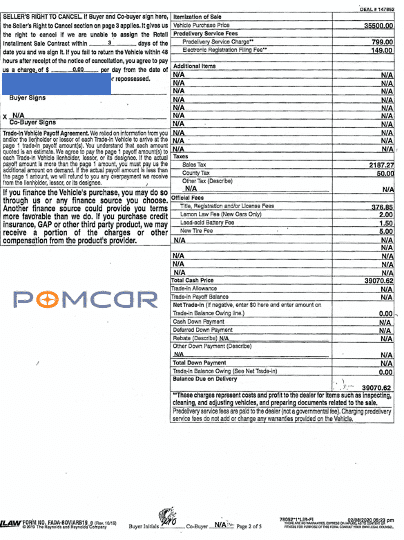 In 2019, there were about 17 million passenger vehicles sold in America. Considering how many people need a new or used vehicle, it's likely you will be visiting a dealership sometime soon. Before you step into a dealership, you need to understand all of the car dealer fees you will face.
Sure, some of these dealer fees are small compared to the total price you pay for the car. However, all of the costs combined will quickly add up. Thankfully, there are a few that you can avoid entirely.
We will review the car dealer fees presented to you, showing you which are unavoidable and can be turned down.
Car Dealer Fees That Must Be Paid
The dealership must pass on some taxes and fees to the customer. As you budget for a vehicle, these are fees you want to plan for. You will not be able to avoid any of these expenses.
Sales Tax
If you live in a region that charges sales tax on vehicles, you have to pay it during the purchase. Sales tax rates vary based on the state you register in. If you purchase in a different state from where you live, the dealership may be able to register your car in your state and charge the appropriate sales tax.
As an example of how big a difference the sales tax can make, let's look at the purchase of a $10,000 car. If you buy this vehicle in Oklahoma, you are going to pay another $1,150 just in sales tax alone. However, buying that same car in Oregon, New Hampshire, Montana or Delaware means you have no sales tax due.
While there's no way to get around paying the sales tax, some states deduct your trade-in value from the price, which lowers the tax expense.
Title and Registration Fee
The dealership handles the process of registering your vehicle with the state, which gives you the title and license plate. To do this, you must pay the dealership the appropriate fee charged by your state's motor vehicle agency.
These fees vary by state. For example, in Alabama, you could expect to pay $23 for the registration, plus an additional $68 in fees. However, places like Colorado charge a percentage of the MSRP. So, if you purchased that same $10,000 car referenced earlier, your registration fees in Colorado would be $210 (2.1%) plus another $75 for the certificate.
Documentation Fee
The documentation fee goes by several names – handling fee, conveyance fee or processing fee. This cost offsets the dealer's expenses for preparing paperwork. Because the dealership sets it, costs vary greatly. Some dealerships charge less than $100, while others will be double or triple this expense.
There are some document fee caps set by states. If you can't negotiate the fee, consider making it up with a lower sale price or to get something else for free.
Destination Fee
The destination charge or fee covers the dealership expenses to get the vehicle from the factory. You cannot negotiate this fee and you might even need to pay for it if you decide to pick up the vehicle from the factory yourself.
Most of the time, this fee ranges from $700 to $1,000.
Car Dealer Fees That Might Be Negotiable
While there is not much leeway with the above fees, there are a few you might be able to negotiate. As you talk with the F&I manager, feel free to leverage some of these fees to your advantage.
Dealer Preparation Fee
If you are purchasing a new car, you can argue that there's no reason to wash or prepare the vehicle for you. Even with a pre-owned vehicle, you might be able to decline these services.
On average, you can expect a dealer to charge you between $100 and $400 for these services.
Advertising Fee
Dealerships may charge an advertising fee, which covers its expenses for marketing. It's often better if the dealership just figures this amount into the cost of the vehicle itself instead of charging it separately, but that's not always the case. Still, you could argue against this fee if you don't want to pay it.
On average, you can expect this charge to run between $250 and $400.
Extended Warranties/Maintenance Plans
The dealership is likely to offer an extended warranty and maintenance plan. You can opt for these services or waive your right to them. It's also possible to negotiate the price and/or features of the plan.
Typically, you can expect to pay between $1,200 and $1,500 for most used car warranties, depending on the value of the vehicle itself.
Additional Destination or Transportation Fees
If you are on the hunt for a specific car model, color or option with particular features, there might be a fee to have the car shipped from the factory. However, there is often room for negotiation if you don't want to pay this cost.
Credit Insurance
While credit insurance isn't a negotiable item, it is something you don't need to get while at the dealership. This coverage can be shopped for from different insurance companies, whichever offers the best policy and rate.
The amount you pay for credit insurance varies based on your loan amount and the state's requirements. For example, in Wisconsin, a borrower taking credit life insurance on a $15,000 installment loan could expect to pay $301 annually.
VIN Etching
Having the VIN etched onto your windshield keeps thieves from stealing your car. If you want to have this service performed, you can save money by getting it done elsewhere. There are even some DIY VIN etching kits on the market for under $25. You can also opt to install your own anti-theft system, pinstriping, rustproofing and fabric protection instead of getting these options from the dealer.
GAP Insurance
While your loan or lease provider might require you to purchase GAP, or guaranteed asset protection insurance, you can shop for this coverage as well. Don't just opt for the first provider, but see who will offer you the best rate.
If you go through most insurance companies, you can expect to pay as little as $20 a month, but this fee is much higher if you choose to use the dealership instead.
Don't Neglect the Pre-Purchase Inspection
No matter what fees you agree to pay or choose to go without, you can't afford to neglect the pre-purchase inspection. POMCAR is a nationwide provider of pre-purchase inspections of used vehicles. We work with an extensive network of technicians who perform 270-point inspections, allowing you to know what you are buying upfront.
Once you locate the car you want, it's time to schedule a hassle-free pre-purchase inspection through POMCAR. With our assist, you can make an informed buying decision.
1 https://www.statista.com/statistics/199974/us-car-sales-since-1951/
2 https://worldpopulationreview.com/state-rankings/car-sales-tax-by-state
3 https://www.factorywarrantylist.com/dmv-fees-by-state.html
4 http://www.realcartips.com/newcars/482-documentation-fees-by-state.shtml
5 https://www.thedrive.com/car-warranty/28686/extended-car-warranty-cost#
6 https://www.nerdwallet.com/article/loans/what-is-credit-insurance
7 https://www.bankrate.com/insurance/car/gap-insurance/