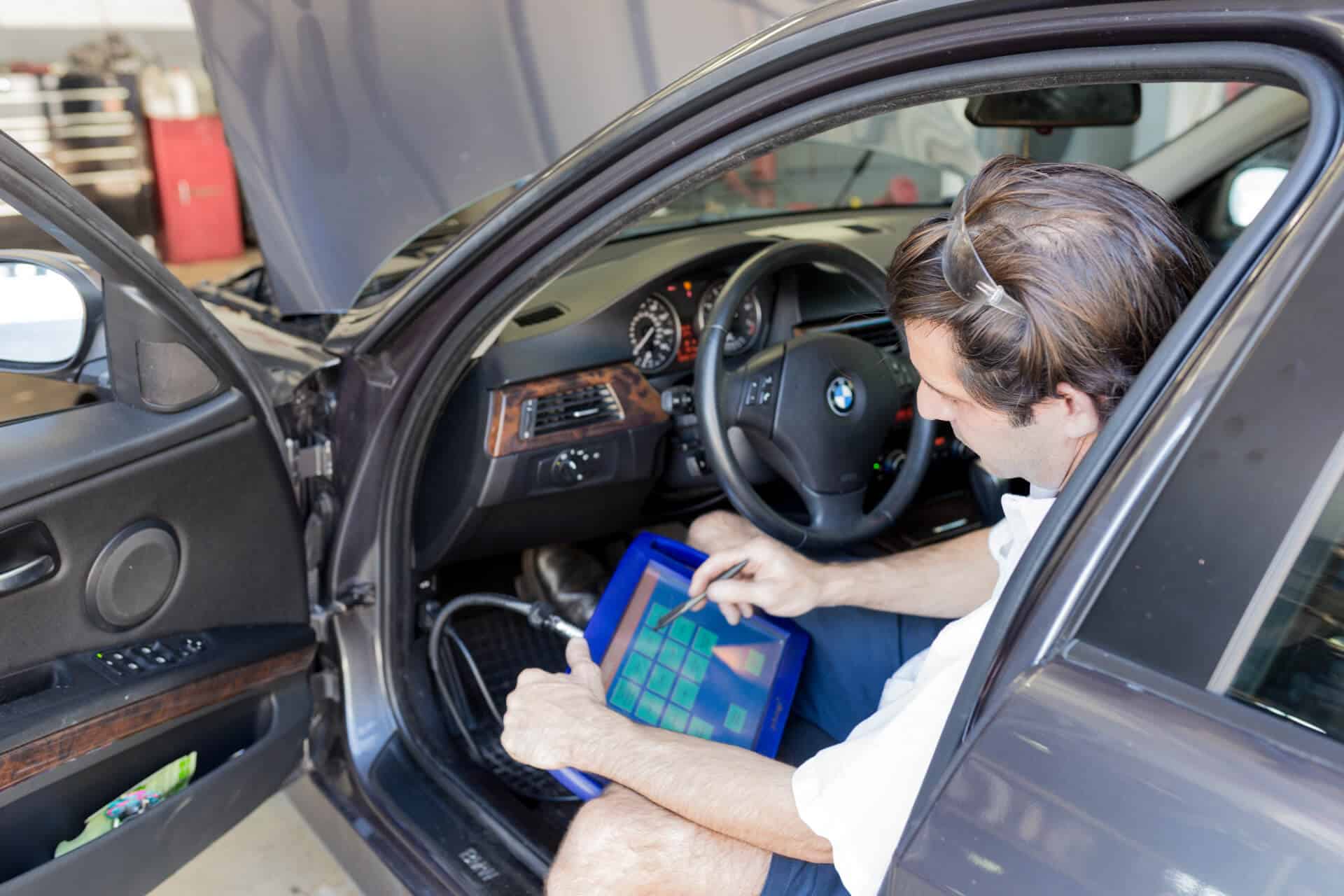 You wouldn't go to a doctor who wasn't board certified – so why would you trust a technician without ASE credentials? Automotive service excellence (ASE) certification is a way for repair professionals to demonstrate knowledge in their field. And if you're thinking about buying a used car, it's important to have a pre-purchase inspection performed by a qualified professional.
What does "ASE Certified" mean?
Since 1972, the National Institute for Automotive Service Excellence, a non-profit organization, has raised the industry benchmark through standardized testing. ASE exists to protect customers and shop owners, while also giving technicians a way to prove their knowledge.
To become ASE certified, a technician must:
Pass one or more challenging written tests
Have two years of professional work experience
There are eight areas an individual must certify in to become a master automotive technician. Plus, there are additional "advanced level" titles available for those who are truly ambitious.
Automotive test series (A1-A9)
ASE certification requires candidates to pass one or more A-series tests and have at least two years of hands-on experience. Master technicians must pass tests A1 through A8; test A9 is optional. To remain certified, a professional must re-take (and pass) the necessary tests every five years. The automotive (A-series) test lineup includes:
A1: Engine Repair
A2: Automatic Transmission/Transaxle
A3: Manual Drive Train & Axles
A4: Suspension & Steering
A5: Brakes
A6: Electrical/Electronic Systems
A7: Heating & Air Conditioning
A8: Engine Performance
A9: Light Vehicle Diesel Engines
Each of the tests listed above is an area technicians can certify in. For example, an individual who passes the A1 exam, and has the required work experience, would be considered ASE certified in engine repair. But that candidate would need to pass all eight exams to change their title from ASE certified technician to ASE certified master technician.
Advanced level specialist tests (L1-L3)
Specialists and master technicians may choose to take one or more of the Advanced Level L-series tests. The lineup includes:
L1: Advanced Engine Performance Specialist
L2: Electronic Diesel Engine Diagnosis Specialist
L3: Light Duty Hybrid/Electric Vehicle Specialist
The L-series tests are more difficult than the A-series and demonstrate an even higher level of dedication.
Why does ASE certification matter?
In any field, including the automotive industry, certification provides trust and peace of mind. Choosing a professional with ASE credentials guarantees you'll get an inspection from a qualified technician; not just some shade tree mechanic.
There are a lot of amateurs who claim to be automotive experts. And it's important to protect yourself from them. An untrained eye may overlook problems that can cost thousands of dollars and create endless frustration.
ASE certified technicians, on the other hand, have proven they have the skills, knowledge and commitment to be the best in the business. So, there's a better chance of finding problems and protecting yourself from a lemon.
Should I avoid technicians who are not ASE certified?
No, of course there are here are technically sound, reputable technicians who are not ASE certified. Some automotive professionals have ascended in their jobs through work experience and sheer determination. They, and their employer, may view certification as unnecessary.
That said, certification provides proof of competence – and as with the intent of all standardized – gives you peace of mind that a certified tech will perform a proper inspection every time.
POMCAR offers best-in-class inspections from qualified professionals
There are a lot of clunkers, rust-bombs and jalopies on the market. And, although these vehicles may look good on the outside, they're riddled with problems that can quickly red line your stress levels. If you are considering buying a used car, don't take any chances – get a comprehensive pre-purchase inspection from POMCAR.
Nearly all of POMCAR's inspectors are ASE certified. Exceptions have been made for select technicians who possess years of industry experience. Every professional we hire goes through a background check to verify their work history and formal training.
If you're in the market for a used car, truck, or SUV don't take any chances. Shoot us a note at [email protected] to check on tech availability or request that inspection today.
POMCAR is a nationwide provider of used vehicle pre purchase inspections. We have an extensive network of qualified technicians ready to perform a 270-point inspection and deliver a meaningful report. Check us out at www.pomcar.com