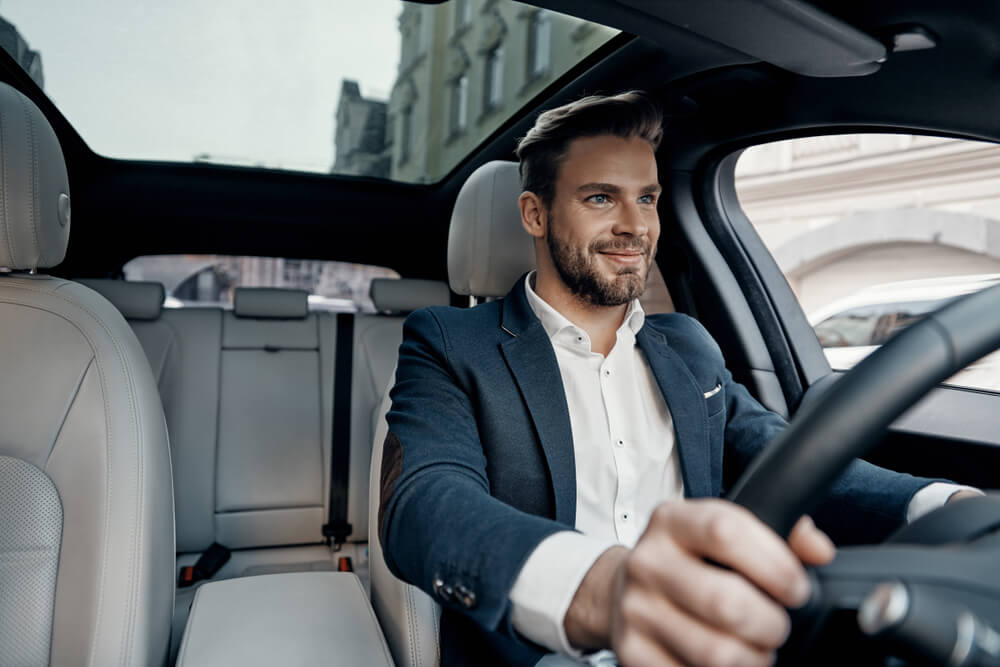 Cliche as it might be, sometimes you just need to buy yourself a car that stimulates your senses. Call it the proverbial "mid-life crisis" or splurging on something you've always wanted, but there's nothing wrong with getting a sports car or a luxury vehicle once you've hit middle age.
If you find yourself getting older and regretting some of the things you never had, it may be time to embrace that nostalgia and go for a carefree ride. Of course, you may have to deal with teasing from friends and family, but there's nothing more satisfying than a powerful engine on a wide-open road.
If you're reading this article, you've likely reached a point where you have financial stability or have been saving up for your dream car for a while. This may even be something you've been yearning for since you were a young boy. It can make you feel empowered and let you be true to who you really are, showing the real you off to the world around you.
What to Look for
Just like any other big purchase, price will always be a factor and at POMCAR, we are standing by to get that used car or truck inspected. In addition, there are a few things you want to look for to make sure you pick the right ride for your needs.
Engine Power
What's the point of a mid-life splurge if you don't have a little oomph under the hood? While power isn't the only thing you want to think about, it's still an important consideration. So go for something with a lot of horsepower and listen to that baby purr as you fly down the highway.
Repairs and Maintenance
While you might absolutely love the power and eye appeal of a vehicle, you need to consider what maintenance or repairs it might need. If it requires specialized parts for repairs that are hard to find in your area or requires frequent, intensive maintenance that is more effort than you're willing to put in, picking something else might be the better option.
Looks
While which looks are best is a very individual preference, there are some features that tend to be popular. This includes rear spoilers, pop-up headlights, automatically opening doors, and a sleek, low-riding profile. Don't feel limited to these options, though. After all, it's your mid-life crisis, and you can buy it if you want to.
Best Options for Married Men
If you're married, you probably have other obligations to keep in mind even in the middle of a mid-life crisis. For example, you may or may not have children, a mortgage, and a slew of bills that must be paid. However, this doesn't mean you can't have your cake and eat it, too, though. Here are some of the best options for married men that won't leave you out on the street.
Chevrolet Corvette
One of the forerunners of American-made power and performance, The Chevrolet Corvette is a muscle car that still looks good even in run-of-the-mill suburbia. Even more, budget-conscious shoppers can find an older model in good condition that lets them have an iconic piece of American history without breaking the bank. While this may not be the best option for family outings at the park, it's perfect for taking your significant other out for a night on the town.
Mazda MX-5
While the Mazda MX-5 doesn't scream, "I don't know what I'm doing with my life," it is a well-designed sports car that doesn't sacrifice reliability or driving experience. It may not be as powerful as some other options, but it offers a nice compromise for those looking to spice up their life without skipping out on their other obligations.
Land Rover Defender
You can't go wrong with a classic, and the Land Rover Defender is no exception. It may be big and unwieldy compared to the stereotypical midlife crisis cars, but you'll definitely draw attention in this collectible option. So whether you get your adrenaline from off-roading in the middle of nowhere or from rushing across town to get your kids to school on time, this just may be the perfect option for you.
Best Options for Single Men
Those who are rocking the single life have a little more freedom than their counterparts. While being a single dad is far from unheard of, it's far less common for single men to have children in tow than married men. This means fewer family obligations and less importance placed on having a back seat.
Dodge Viper
A perfect example of sleek, powerful, and aggressive, the Dodge Viper is a perfect car to show off your confidence and turn heads no matter where you go. If you don't see it going, you'll definitely hear it leave. With power for days and a bold statement of your everlasting masculinity, this is definitely a car for making statements.
Lamborghini Huracan
Join the ranks of Hollywood playboys and sports stars with the jaw-dropping Lamborghini Huracan. With a a 602 HP engine that goes from zero to sixty in 2.5 seconds, this aerodynamic powerhouse will ensure everyone knows how important you are when you pull up. So flip the keys to the valet and get ready for the swarm of women wanting to know your name.
Ford Raptor
Men want it, boys want it — heck, even women want this ferocious beast of a truck. It's the one thing that fits in perfectly with both expanding waistlines and Ivy League frat parties. It might not turn heads the same way our previous entry does, but it makes up for it in power and versatility. Just load up the bed of this bad boy with outdoor gear, an ATV, or all the supplies for your latest building product and take the long way home to prove you're still in your prime.
Having The Coolest Ride Around
No matter what stage of life you find yourself in, start working on wiling away that bucket list of regrets you've accumulated by getting the vehicle you've always wanted and living a little.
Don't let anyone shame you out of your mid-life crisis before you're good and ready. After all, an investment in a good car is an investment in yourself.
At POMCAR, pre purchase inspections are all we do, and our objective is to ensure that every customer is satisfied in knowing that they have made the most informed car buying decision possible. When you are ready to buy that ride for your mid-life crisis, be sure you get that pre purchase inspection from POMCAR. Check us out at www.pomcar.com