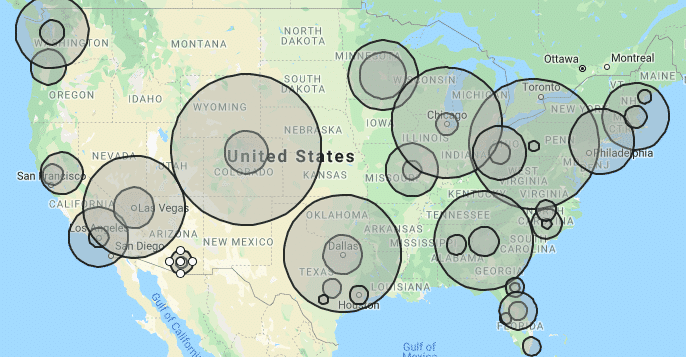 Get a better price on a used car by expanding your search radius
If you're like most consumers, you limit your search radius to a hundred miles or so when shopping for a used car. After all, shipping a vehicle from far away sounds difficult, risky – and really expensive.
Surprisingly though, the process is not as cumbersome, intimidating or costly as you might think. And being open to purchasing a used car that's hundreds (or even thousands) of miles away can save you a lot of money.
How expanding your search radius can save you money
Some vehicles demand more money in particular geographic locations. For example, a one-ton pickup truck may be more desirable in Cheyenne, WY, than in the crowded San Francisco bay area. Likewise, there probably aren't a lot of buyers clamoring for convertible Ferraris in frigid North Dakota.
Occasionally, you can cash in on these regional differences by expanding your search radius, buying a car online and having it shipped. The savings can be thousands of dollars, making the cost of transport well worth it.
There's another factor that varies by location, too, and that's the cost of living. Everything – including many a used car – is more expensive in well-to-do locations. Next time, you may want to look for pre-owned vehicles in Mississippi, which is the cheapest state to live in, according to CNBC.
Sometimes, however, larger cities yield better prices because dealers have more inventory. There are more private parties to choose from in these areas as well, so buyers have more options and can haggle for a better deal.
The bottom line is, don't be afraid to widen your search radius when shopping online for a used car. You can quickly filter the results to find the best deal – wherever it may be.
Other benefits of widening your search area
The possibility of saving money isn't the only perk of widening your search radius. If you're looking for a hard-to-find classic or exotic car, expanding your search may be the only choice.
Even if you aren't searching for an uber-rare ride, widening your search area gives you more options. Say, for instance, you want a certain color car with particular options, but live in Middle-of-Nowhere Montana. Looking at other locations might be the best way – and the only way – for you to get the car you desire.
Shipping a vehicle isn't as costly as you might think
Are you concerned you'll have to take out a loan to pay vehicle shipping costs? Don't worry; a car transport is more affordable than you might think. According to ConsumerAffairs, the cost of transporting a car is remarkably reasonable. Especially when you consider buying a used car is such a big investment.
A 2019 article from ConsumerAffairs lists the average price to ship a vehicle within the U.S. as between $500 and $1,500. Although the price variance is due primarily to shipping distance, the size of the vehicle makes a difference, too.
Trucks and SUVs are generally pricier to ship than a car. The average price to ship a car from coast to coast as $1,105. Meanwhile, the same trip with a truck costs approximately $1,270.
A long-distance purchase doesn't have to be intimidating
For many consumers, buying a car without seeing it in person can be intimidating. But it doesn't have to be that way. An expert pre-purchase inspection from Pomcar provides you with a detailed vehicle report, so you'll have an idea of what you're getting. Our thorough analysis reduces risk, while also providing you with peace of mind.
Do you have your eye on a pre-owned ride located miles away?
POMCAR is a nationwide provider of used vehicle pre purchase inspections. We have an extensive network of qualified technicians ready to perform a 270-point inspection and deliver a meaningful report. Check us out at www.pomcar.com
Sources
https://www.consumeraffairs.com/auto/cost-to-ship-a-car.html
https://www.cnbc.com/2018/06/28/americas-cheapest-states-to-live-in-2018.html